Card Weavers' Patterns: Kivrim - Vacant-Hole Variations
On this page we explore what happens when we use a familiar pattern of the kivrim family and weave it in the vacant-hole technique. Kivrim images are familiar to most tablet weavers since they are shown on the cover of Peter Collingwood's book "The Techniques of Tablet Weaving".
In the vacant-hole technique only three of the four holes of a square tablet are threaded. The vacant-hole is then used to create a surface that resembles the plain weave structure.
The best exploration and tutorial of the vacant-hole technique are offered in the book "The Willful Pursuit of Complexity" by Kris Leet and Linda Malan. It also contains beautiful pictures.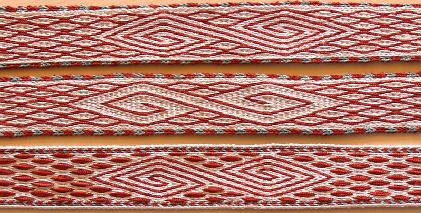 Click on the image to enlarge.
All patterns of this page can be downloaded by clicking on the links labeled "Download Pattern: xyz". To make use of the downloaded pattern files you first need to download and install the software.
| | | |
| --- | --- | --- |
| # | Icon | Description |
| 1 | | Kivrim - hopsack used in grid only. There are long floats on the back side in the grid section. |
| 2 | | Kivrim - hopsack used in grid and bent figure. There are very long floats under the bent figure. |
| 3 | | Kivrim - hopsack used in grid. In this case the floats are on top. |
---